Gentle Giant announces Freddy Krueger animaquette
Gentle Giant has announced their Freddy Krueger animaquette, coming in June 2009: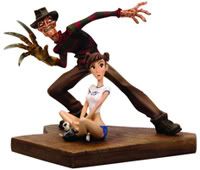 A Gentle Giant Sculpt! On Elm Street, Nancy Thompson and a group of her friends are being tormented – in their dreams – by a clawed killer named Freddy Krueger. Nancy must think quickly, as Freddy tries to pick off his victims one by one. When he comes to you in your dreams and turns it into a living nightmare, who will to save you? Freddy Krueger just might come for you too!
Gentle Giant has created an animated-style Freddy Krueger Maquette with a twist! Freddy is showcased ready to strike at his victim, who sits cross-legged in front of Freddy wearing a "Camp Crystal Lake" t-shirt holding a plush Jason Voorhees doll. Freddy stands approximately 7″ inches tall and comes with a Certificate of Authenticity.
Product Number: GG10323
Shipping Weight: 3.50 pounds
Release: June 2009