A Nightmare on Elm Street poster debuts on MySpace
MySpace posted the new movie poster for Platinum Dunes' upcoming remake of A Nightmare on Elm Street. Here is what they say: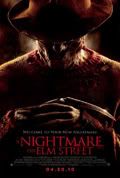 WELCOME TO YOUR NEW NIGHTMARE.
While Warner Bros. Pictures A Nightmare on Elm Street doesn't arrive in theaters until April 30, the studio wants you to dream of the day by torturing us with all sorts of goodies from the forthcoming redo. This morning various websites brought you their reports from the filming locations in Chicago, IL, while this evening you'll be dreaming of good ol' Freddy Krueger (Jackie Earle Haley) thanks to this brand spanking new one sheet! What do you guys think of it?
Watch MySpace this Thursday for the final trailer!
A Nightmare on Elm Street is slated for release April 30, 2010.
Also, be sure to check out Part 1 of our set visit here.