Never Sleep Again: The Elm Street Legacy Pre-Order Begins
Never Sleep Again: The Elm Street Legacy, the ultimate Nightmare documentary, is now available for pre-order. Orders placed online at elmstreetlegacy.com will include a special, commemorative Never Sleep Again: The Elm Street Legacy poster (12″ x 18″). This original artwork, created by "Elm Street" poster artist Matthew Joseph Peak, is only available through elmstreetlegacy.com with purchase.*
If you place your order at elmstreetlegacy.com before June 1 your commemorative poster will be individually signed by "Nancy Thompson" herself, Heather Langenkamp!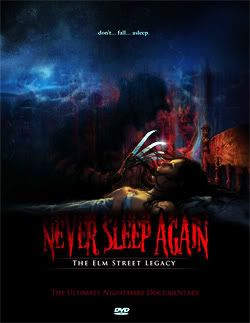 Never Sleep Again: The Elm Street Legacy 2-disc DVD
Murderer. Dream demon. The bastard son of a hundred maniacs. Any way you slice it, there can only be one man–one monster–who epitomizes those words: Freddy Krueger.
For decades, he has slashed his way through the dreams of countless youngsters and shows no signs of ever resting in peace. A Nightmare on Elm Street star Heather Langenkamp is your dream guide in this thrilling "shockumentary" that takes you deeper into Freddy Krueger's realm than ever before, featuring exciting clips, never-before-seen photos, behind-the-scenes footage, conceptual art, publicity materials and exclusive new interviews with over 100 key cast and crew from every Nightmare, including Wes Craven, Robert Englund, Heather Langenkamp, Jack Sholder, Mark Patton, Kim Myers, Chuck Russell, Jennifer Rubin, Renny Harlin, Lisa Wilcox, Tuesday Knight, Stephen Hopkins, Kelly Jo Minter, Rachel Talalay, Lisa Zane, Alice Cooper, Patrick Lussier, Miko Hughes, Monica Keena, Brendan Fletcher, Ronny Yu and many more.
So get ready for Freddy in the definitive account of modern cinema's eternal bogeyman and what has been called the most frightening and imaginative horror franchise in motion picture history!
The DVD will be released on May 4, 2010.
*While supplies last. Poster is folded and shipped with DVD.