EW Publishes New Freddy Krueger Article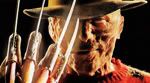 Entertainment Weekly's latest issue (#1098) features a brief article about Platinum Dunes' upcoming remake of A Nightmare on Elm Street. This piece focuses on Jackie Earle Haley as the new Freddy Krueger, and includes a detailed photo of the "reimagined" villain.
Click here to read it. A Nightmare on Elm Street opens April 30, 2010.